<!menu finishes here------------>

Stanmore Hill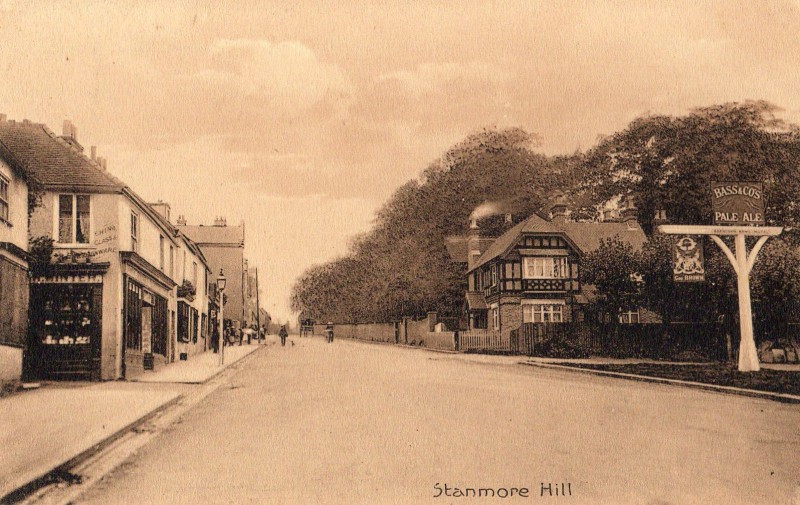 Stanmore Hill is one of the highest points of London,standing at 152 metres (499 ft) high. Fantastic views of the surrounding area and Wembley Stadium can be seen from the junction with Green lane just south of the peak
Originally Stanmore was sub-divided into two manors; Great and Little Stanmore. Great Stanmore had at its heart Stanmore Old Church (now in the Old Church Lane) and houses clustered near the bottom of Dennis Lane as well as Green Lane and Stanmore Hill, areas now within the Stanmore Hill . There was another cluster of houses further up the hill by the Common. The head tenement in Great Stanmore was called Pynnacles. The importance of this name to the area is evident as it is still seen in and around Stanmore Hill today.
The earliest references to the Pynnacles building suggest it was near the corner of Church Road and Stanmore Hill. The main house was later moved towards the Green Lane and Church Road junction and was a long building with a classical facade destroyed by fire in 1930. The remodelled former 19th century lodge to Pynnacles House is contained within the, as a positive building within Cherchefelle Mews, built in the late 1980s. The name Pynnacles also applied to land further up the Hill, mainly in the wedge between Green Lane and Stanmore Hill. Indeed today within the Stanmore Hill CA (Conservation Area) there is a Pinnacle Place Pinnacle Place are listed buildings on Green Lane.
In 1588 a survey of the manor of Great Stanmore was undertaken. The head tenement, Pynnacles, and Aylwards are mentioned as major land owners. But much of the detail appears to relate to buildings in and around The Broadway and Marsh Lane, which may indicate that Stanmore Hill was still at this time less heavily populated. Common arable fields still existed around Stanmore Hill as late as the nineteenth century.
Stanmore Hill became a main road following the creation of a new road to London by the Duke of Chandos to the north of Canons in 1718 (the current London Road).Those travelling from Watford descended Stanmore Hill before joining the London Road. After this re-routing, settlement developed along Stanmore Hill, Uxbridge Road and around Little Common CA. Stanmore Hill's linear settlement developed to serve travellers along this major route; many of whom would have stopped at the Abercorn, an 18th century hotel developed for the passing travellers. The Abercorn was named after the Marquess of Abercorn who acquired the nearby Bentley Priory Estate in 1788. It served many travellers on this busy route through Watford to the Midlands, encouraging further settlement on Stanmore Hill. Highwaymen apparently stalked this route since coaches moved slowly up the hill. Given this was now a principal route to London, gentlemans houses also developed
Some of the 18th century houses are still present. In contrast, to the importance of the Stanmore Hill route, it seems Green Lane was still very open and rural, reflecting its more green and spacious character today. It is known that in 1783 elm trees growing along Green Lane and a mixture of wood, probably from hedgerows there, were felled and sold
The Abercorn (formerly the Abercorn Arms) is also important for its history and associations. It was called the Royal Hotel after a meeting which took place there in 1814 between the Prince Regent, the King of Prussia and Louis XVIII. Louis was returning in state to France to reclaim the throne after spending his exile in Hartwell, Buckinghamshire. The Morning Chronicle of 21 st April, 1814 describes a procession through the town in honour of the French King who had to be helped down from his carriage as he was so infirm. Louis had breakfast at the hotel. There were stables and outbuildings there for travellers horses. Coaches ran from outside the Abercorn to Oxford Street twice a day as early as 1826 and between Stanmore and Holborn from 1803
Given the importance of the Stanmore Hill route to London, from its 18th century origins, a tightly-packed core developed opposite the Abercorn, towards where Stanmore Hill and Green Lane join one another. The dense development partly reflects that this occurred before enclosure. Retail units developed. The 1851 Census revealed many shops, including specialist shops on Stanmore Hill. This was probably partly due to the large number of gentlemens residences in the area, which also continued to develop along Stanmore Hill. There were 10 bakers, 16 dressmakers, 8 tailors, a watch maker, a historical engraver and a bookseller. Later there was alsoa Smithy and a Post Office. The Smithy building remains, as does the post office, the latter now offices. There were also two general practitioners. Behind, in close proximity to these retail units, small-scale tightly packed cottages developed along Green Lane.
Land further south from thi score, particularly along Green Lane was not developed to any great extent until development of former fields after enclosure which explains their relatively spacious, green character. Indeed, the 1864 OS map shows development did not extend along Green Lane on either side beyond Franklin and Green Lane Cottages. Either side of the road were open fields. Green Lane remained very rural until houses were built in the late 19th/early 20th century. Green Lane as it is today began to develop in the late 19th century when the west side was colonised by four new large residences. These were Culverlands to the north, Benhale, Woodside and Clodiagh. By 1896, the OS shows four houses on the east of Green Lane have replaced fields. By 1911, three extra houses had developed on the east side including Martinsell, Wallon Cottage and Littlecote.
Returning to Stanmore Hill, interestingly, a house called Woodlands, located approximately where the petrol garage is today, is on the 1800s OS maps and was owned from 1885 by Lord Halsbury, then Lord Chancellor. At the turn of the century 73 Stanmore Hill was part of the estate of the Earl of Halsbury. Edward Wilson lodged there between 1899-1901 when studying as a doctor in Stanmore. He was offered a post as a junior surgeon and zoologist on board the Discovery for a voyage of Antarctic exploration with Captain Scott. He died during the 1912 Antarctic expedition. Cape Wilson in Antarctica is named after him. In 1898 number 37 was acquired by Hendon Rural District Council as Council Offices with one of its rooms used as the council chamber
1930s onwards Patterns of Growth
From the 1930s development increased dramatically. Pynnacles burnt down and so 10 acres was released for development. On Stanmore Hill, Stangate Gardens, Hill Close and Spring Lake and Halsbury Close extended as cul-de-sacs, whilst on the east, Old Forge Close, Kennets Close and Fallowfield developed. The 1935 Ordnance Survey (OS) shows four new houses on the field between Woodside and Clodiagh
From the 1960s the main form of development was the infilling of large gardens on Green Lane. But relatively higher densities of development remain to the north of the CA where Stanmore Hill and Green Lane join one another, whereas low to medium densities of development remain elsewhere. Fortunately, back land development has been avoided
The slope from south east to north west along Stanmore Hill and Green Lane provides excellent long distance views and good view stowards interesting architectural details or groupings. It allows interesting roofscape views, with chimneys, chimney pots and gables ends or shallow hipped roofs often stepped with the hill. Varied building designs provides interest, but common architectural qualities provide coherence (as outlined within the 'Architectural Qualities' section). The street scene greenery complements buildings helping create the suburban character along with predominance of single-family dwelling houses. There is a linear character to development and in the historic core (towards the top of Stanmore Hill and Green Lane) a tight-knit and enclosed character exists due to the terraced development, whilst the remaining CA has more medium scale development.
A small landmark building within is the listed red telephone box outside the Abercorn Arms. This is of K6 design by Sir Giles Gilbert Scott. The K6 (kiosk number six) box was designed in 1935 to commemorate King George V's silver jubilee.

---


Do you have any information or contributions you can add to this page? If so we would love to hear from you.
Please contact us

Why not share us on Facebook