This demo is too wide for your mobile screen.
Please view on a tablet or PC.
<!menu above----------------->

Andrew Drummond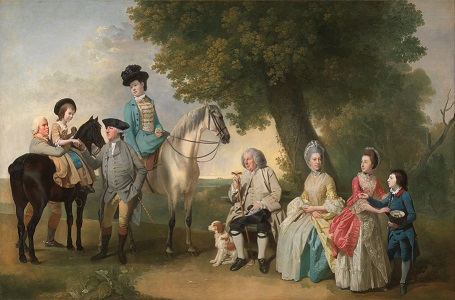 The Drummond Family, c.1769 with Andrew seated center, on the Stanmore Park estate

Andrew Drummond (1688-1769) was the founder of the London bank Messrs Drummond.
Andrew Drummond was born in 1688 at Machany, Perthshire, the 5th son of Sir John Drummond and his wife Margaret, daughter of William Stewart of Innernytie.
During Andrew Drummonds infancy his father was imprisoned in Stirling Castle for his attachment to the Stuarts following the passing of a decree of forfeiture against him in 1690.
Working life
Andrew Drummond started his working life on 4 May 1705 as an apprentice to the Edinburgh goldsmith Colin McKenzie, in Parliament Close, Edinburgh. It is not known if he completed the full term of his apprenticeship.
Surviving documents indicate that by 1712 he was in business as a goldsmith in London, trading at the sign of the Golden Eagle, Charing Cross. The earliest surviving record of his business, a ledger opened in 1716, shows that he had by then an established trade as a goldsmith.
By 1717 Andrew Drummond was trading from one of six new houses next to Northumberland House, and in that year he began to offer banking services alongside his work as a goldsmith. Drummond was not the only goldsmith to diversify in this way; since at least the 1650s numerous others had followed a similar course. Within only a few years he was principally a banker, although he did continue as a goldsmith in a small way for another 30 years. His clientele was initially drawn from the Scottish community in London, based around Whitehall and Charing Cross, and from an early stage also included a number of army agents.
In 1744 Andrew Drummond took his son John into partnership, and in the same year Andrews brother William sent his two sons, Robert and Henry, to London to live with Andrew.
In 1745 Andrew Drummonds business fell into turmoil. The underlying events are not clear, but it was probably a reflection of political tensions surrounding the Jacobite Rising of that year. By early October 1745, Bonnie Prince Charlie and his Highland army had taken control of Edinburgh, and were preparing to march into England. One of the Jacobites most prominent leaders was Andrew Drummonds brother William, Lord Strathallan. He had participated in the 1715 Rising, being taken prisoner at Sheriffmuir, and now, 30 years later, he commanded the Jacobite forces in Scotland.
It seems likely that Andrew Drummonds close connection to a leading Jacobite not just as Williams brother, but as guardian to his two sons placed him under suspicion. On 3 October he ceased trading, probably because his books were seized for inspection by the authorities. He started a new ledger 12 days later, but his business had been severely affected. The new ledger held fewer than half the previous number of accounts, and he had to publish a newspaper announcement promising to pay off his debts in two instalments by March 1746.
In fact Drummonds debts were not finally settled until September 1746, by which time his brother William had been killed in the Jacobites crushing defeat at Culloden. Williams sons Robert and Henry remained in Andrew Drummonds care, and in 1749 both began to work at the bank.
Andrew Drummonds business did not fully recover from the events of 1745 until the 1760s. Nevertheless, by the time of Drummonds death in 1769, his bank had moved to larger new premises on the opposite (west) side of Charing Cross. It had 1,500 customer accounts. Its clientele was diverse, including members of landed and titled families, army agents and a considerable number of leading architects, artists and craftsmen.
After Andrew Drummonds death the business was continued by his son John and nephew Robert. In 1772 Roberts brother Henry also joined the partnership. The business continued to be managed by their descendants until the early twentieth century.
Family life
On 7 November 1716 Andrew Drummond married Isabella, daughter of the merchant Alexander Strachan (or Strahan). They had three sons and two daughters together, but only two John and Isabella survived childhood. Only John was still living at the time of Drummonds death.
Drummonds wife Isabella died in 1731, and he did not remarry. Properties
Andrew Drummond initially lived above his shop at Charing Cross. In 1729 he bought Stanmore House, in Stanmore Park Middlesex, as a country residence.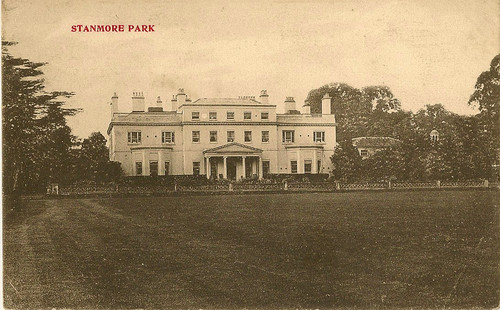 Stanmore House, in Stanmore Park, was the Drummond family's country residence.

In 1755 he bought his childhood home at Machany, Perthshire, as a gift for the wife of his nephew James. That estate had been attaindered after the Jacobite Rising.
In 1763 Drummond had Stanmore House virtually rebuilt, initially to designs of the architect John Vardy and, following Vardys death in 1765, to those of Sir William Chambers.
Other activities
Andrew Drummond served as churchwarden of St Martin in the Fields.
In 1752 he was granted freedom of the Goldsmiths Company of Edinburgh and also admitted a burgess and guild-brother of Edinburgh for good services done to the council.
Death and legacy
Andrew Drummond died on 2 February 1769 at home at Stanmore. John Ramsay of Ochtertyre quoted him as having summed up his life thus: I have done great things, and have almost everything I could desire. My son is married into a noble family, and I have planted a colony of Drummonds round Charing Cross which appears to thrive


---

Why not share us on Facebook


Or join our Facebook group
"Stanmore Middx. Past & Present"
For Hundreds more vintage photos of the area, as well as news and local events.