This demo is too wide for your mobile screen.
Please view on a tablet or PC.
<!menu above----------------->

Bernays Public Gardens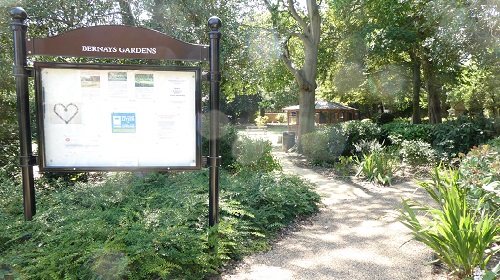 The delightful Bernays Gardens are located at the junction of Old Church Lane and Church Road and fall within 'The Old Church Lane Conservation Area'. The gardens take their name in memory of two local Victorian Rectors. The first, Leopold John Bernays, was rector of St John's Church from 1860-1883. He was also a chairman of the Stanmore Gas Company and also had an interest in the Colne Valley Water Co. Leopold gave the Bernays Memorial Hall which still stands in the Broadway in memory of his son Ernest who was drowned whilst on holiday in Ireland.
later his son Stewart F L Bernays became rector from 1898-1924, he too took an active part in local affairs and both Father and son were well thought of in the area.

History
In 1923 Samuel Wallrock, a property developer, bought the Manor House and its grounds. The Manor House was demolished in 1930 and a new mock Tudor manor house was constructed, along with various outbuildings. The new buildings were made to look older with handmade clay tiles and stained glass from the local church. The old brick walls which formed the original boundary remain (in a remodelled form) as the walls to Bernays Gardens. Therefore, not only does the gardens have historical links with the Old Manor House, but parts of its walls remain as a visible and attractive link to the past and are grade II listed.
Wallrock intended to make the Manor House estate self-sufficient comprising vast gardens, a herd of Jersey cows and a dairy. In fact, one of the adjoining building knowns as Cowman's Cottage still has the cowsheds attached and would have presumably formed part of the dairy and sheds for the Jersey cattle. It is timber framed with lath and plaster infill with a vaulted veranda, covered by a handmade tile roof. On the side elevation, carved into the substantial oak beams is a moral statement,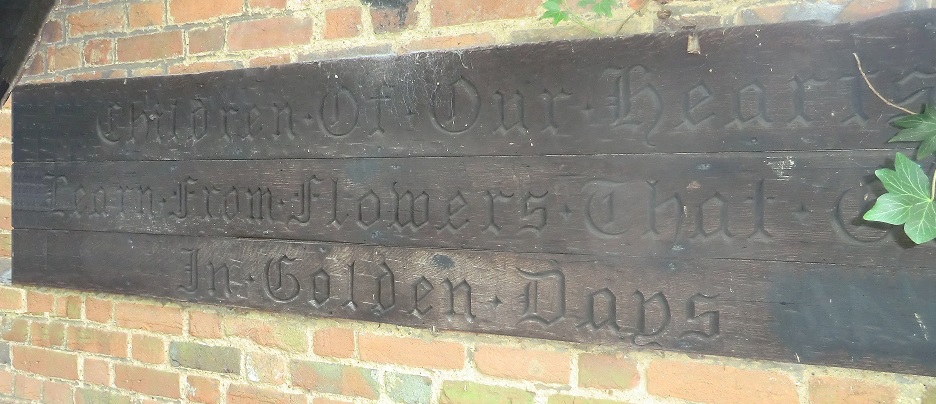 An inscription on a wooden plinth located on the side of the cowsheds.
"Children of our hearts learn from flowers that grow in golden years".

Walrock was fond of inscriptions and also inscribed the beam above the entrance lodge to his new manor house with the line 'Welcome ever smiles and farewell goes out sighing' this unfortunately was all too apt for Mr Walrock who had to leave his cherished home in 1933 when he became bankrupt having spent an estimated £100,000 on the house and estate.
Other than property development Wallrock was best known for his passion for horticulture. He was president of the prestigious sweet pea society and a frequent champion at leading flower shows. Wallrock constructed a huge garden complex which took about 10 years to complete. He bought in semi-mature trees and added rare specimen trees that he replanted from Aldenham House, which the historian Walter Druett, described as 'one of the most remarkable feats of tree transplanting ever performed in this country.' Many of these specimens still survive and a number of mature trees dating from the C19th and early C20th, can be found including a fine copper beech, oaks, yew, and horse chestnuts both within Bernays Gardens and within the Manor House Estate, all of which are kept on a special record by Kew Botanical Gardens because of their interest.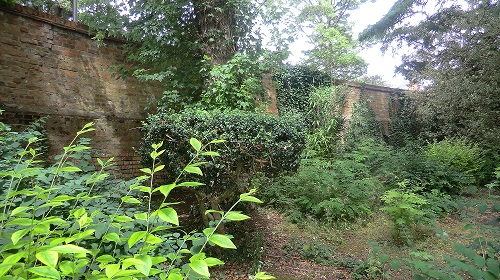 Part of the Grade II listed wall surrounding the gardens
once formed the original boundary to the old manor house.

After Walrocks departure the Church took over many of the decorative outbuildings along Old Church Lane as a church hall and the verger's residence and the land now occupied by Bernays Gardens was left vacant until it was used to cultivate vegetables during the Second World War. The gardens as we see them today were laid out in the late 1940s when the area was acquired by Harrow Council. They were designed by Mr Tilly, head of the Parks Division with the assistance of his deputy, Mr Andrews.
A number of fine trees are found in Bernays Gardens, which was laid out with areas of lawn, shrubbery beds and areas of ornamental planting, including a York stone paved terrace with flower beds and ornamental palms in front of part of Church House Cottage.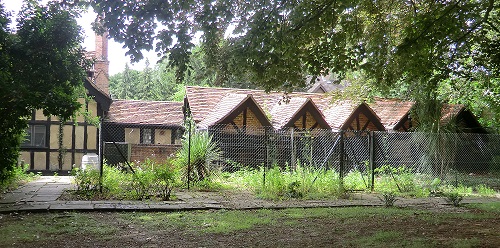 Walrocks Cowman's Cottage and the Cowsheds.

The entrance to the gardens is via a gateway in Church Road, near which is an area of paving and ornamental planting that includes palms and roses. Various serpentine paths cross the gardens, including a circular path shown on the OS Map of 1963.
At various times during the year the gardens play host to a number of events including the annual Stanmore fete, which not only use the Bernays gardens but also the adjoining church field, as well as community events hosted by the The Bernays Gardens Community Group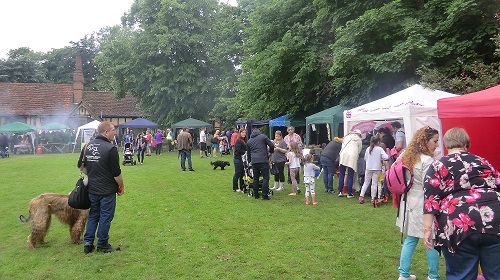 The annual Stanmore Fete.

The Bernays Gardens Community Group
The Bernays Gardens Community, are a small group of community volunteers (only one of whom is a professional gardener) restoring Bernays Gardens to a place for everyone living & working in the locality. Their participating members have told us how working with the team has contributed to their mental well-being - thus reducing stress and anxiety and at the same time improving their confidence and self-esteem.
When they took on the work the site was overgrown, flower beds had disappeared and trees were dying. They have reinstated one of the flower beds as a rose bed, and planted 50 rose bushes. They have planted over 500 daffodils, some poppies, new shrubs and plants and have been pruning and maintaining the trees. The Gardens are in a Conservation area so it is fitting that they be returned to their former glory.
Protecting or improving biodiversity - They have installed bat boxes and bird nesting boxes and bee/bug boxes and have created woodpiles to make areas more suitable for wildlife.
The Gardens are always open, and will continue to hold open day volunteer sessions and also host community events. In fact they have held two "free" open picnics with entertainment, and have been supported with sponsorship from local businesses, to achieve funding to continue their work.
All are welcome to join the group regardless of age or experience, so if you would like to help or take part, you can contact them
Via their Blog at: http://bernaysgardens.blogspot.co.uk
Via Twitter at: https://twitter.com/bernaysgardens
or on Facebook at:Bernaysgardenfacebook

---

Why not share us on Facebook


Or join our Facebook group
"Stanmore Middx. Past & Present"
For Hundreds more vintage photos of the area, as well as news and local events.