This demo is too wide for your mobile screen.
Please view on a tablet or PC.
<!menu above----------------->

Edward Adrian Wilson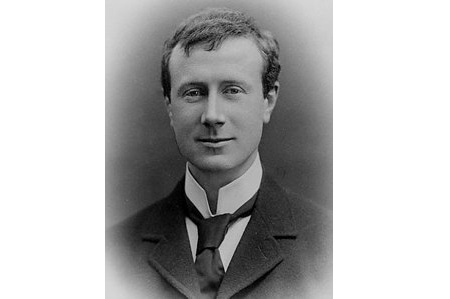 Edward Wilson was an English physician, polar explorer,
natural historian, painter and ornithologist.

Everyone has heard of the legendary explorer Captain Scott and his comrade Captain Lawrence Oats who uttered his final immortal words "I am just going outside and may be some time." But did you know a local Stanmore resident was also among the five-man Polar party on that first great Expedition to the South Pole. His name was Edward Wilson and this is his story.
Edward Wilson was born in, Cheltenham, Gloucestershire, on 23 July 1872. From a young age he was described by those that knew his as a gifted, but boisterous child. He started to develop a love of the countryside, natural history and drawing. Edward was sent as a boarder to a preparatory school in Clifton, Bristol, but after failing to gain a scholarship to public school, he attended Cheltenham College for Boys as a day pupil.
His mother worked on a farm and by the age of nine, he had started to draw pictures of the local animals, wildlife insects and fauna in the meadows and around the farm. After passing his Oxford and Cambridge exams with honours in science, he went on to read Natural Sciences, obtaining a first class degree in 1894. It was during his time there that he developed the deep Christian faith and asceticism by which he lived his life. He studied for his Bachelor of Medicine and also undertook mission work in the slums of Battersea in his spare time.
In February 1898 Wilson became seriously ill and was diagnosed with pulmonary tuberculosis, which he contracted during his mission work. He spent a bit of time over in Europe to rest and recover from his condition. After moving back to England, he was told fresh country air would be much better for his lungs than breathing the city smoke. After viewing a few places Edward decided to move out into the Stanmore countryside where he could use his time locally on Stanmore common and around Bushey Heath to practice and develop his skills as an artist.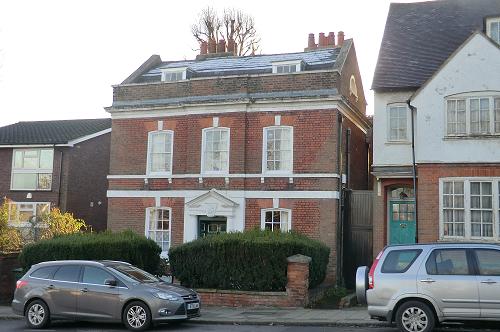 73 Stanmore Hill. The house known as Robin Hill and previously Loscombe Lodge,
was Edward Wilsons home in Stanmore.

Edward moved into no.73 Stanmore Hill the house was called Loscombe Lodge in 1899 when Wilson lived there and later in the 1930's was renamed Robin Hill. It is said to be one of the oldest houses on the hill, and was built in the early 18th century dating from about 1730. It stands three storeys high with red brick carefully bonded, stone cornice and string courses, parapet and tile roof. The left flank elevation has first floor Venetian window. A front door case with full cornice, columns and pediment and if you look at the Keystone above the front door it is carved with a bearded face.
Robin Hill was once a police station. The cells for the prisoners were situated below ground and were well protected with iron bars. They are still there and can be seen in the front garden.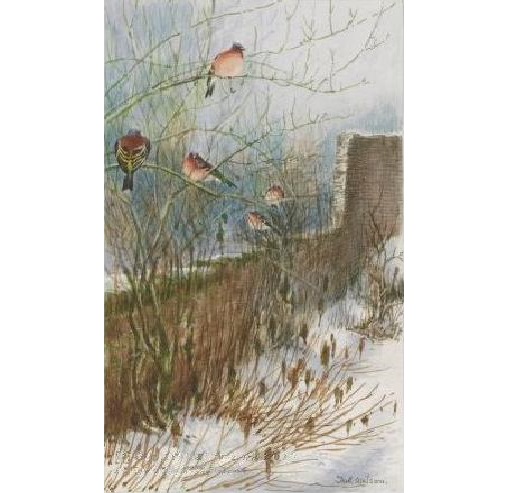 Cock chaffinches in winter, Stanmore 1900.
One of a set of watercolours of British birds by Edward Wilson

During his time in Stanmore, Wilson struck up a platonic relationship with another local, Eliza Brightwen who would later become renown worldwide as a popular author and naturalist, and whose books still sell on Amazon to this day. They both shared a passionate interest in Natural History, drawing and painting. Eliza lived at the Grove in Warren Lane and they could both be found sketching or painting the local wildlife in and around the Stanmore area particularly Stanmore common. Eliza also gave Wilson free run of her large estate at 'The Grove'
Edward wrote in 1900 "When I come home from town I went up to Stanmore Common to hear the nightingales. It is delightful to feel that one can go up there anytime of the day or night and listen to such lovely bird song as one can hear up there. There are Robins, Blackbirds, and nightingales all singing together and two or three at various distances: a most, still beautiful evening, the sun had set some time"
Being away from his family Wilson became quite a prolific letter writer and would write to his sisters frequently. Often giving medical advice but also telling them of his growing Christian beliefs. In one letter he says he once noticed his younger sister Ida reading her Bible before breakfast, and offers that "early morning Bible readings are the secret of happiness in this life", recommending the New Testament, the Gospels, and St. John in particular, also suggesting the keeping of a journal to combine a diary with "self examination and your prayers". In another he was describing a sea crossing from Le Havre to Trouville and wrote, "My pride kept me from feeling squeamish even when a woman vomited down wind all over my face and cape. That was trying, but the waves that broke over the bows and soaked us, soon washed it off"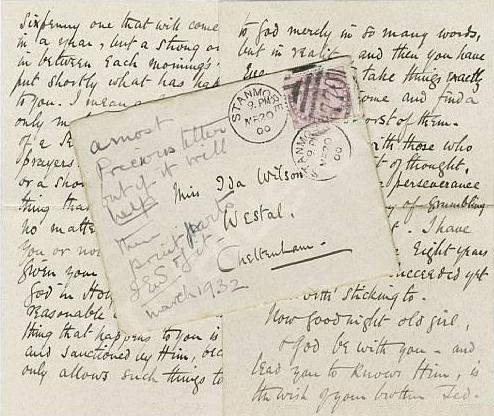 A sample of letters, signed "Ted" which he Sent to his younger sister Ida Elinor Wilson
and postmarked Stanmore, 20 March 1900.

It was during his time living at Stanmore that Edward qualified as a doctor, and the following year 1901 he married Oriana Souper a lady he had met whilst working at the Caius Mission in Battersea. Just three weeks later he was setting off for the Antarctic as a member of (Captain) Robert Falcon Scott's Antarctica Discovery Expedition, with Ernest Shackleton
During the expedition he acted as Junior Surgeon, Zoologist and expedition artist, They reached Antarctica in January 1902. On 2 November 1902, Wilson, Scott and Ernest Shackleton set off on a journey that, at the time, was the southern-most trek achieved by any explorer. The party had dogs but they were not experienced in using them and the food brought for the dogs had gone bad. With many of the dogs dead, they turned back on 31 December 1902 having reached latitude 82°17'S. They had travelled 300 miles farther south than anyone before them and were only 480 miles from the Pole.

The five-man Polar party. Captain Laurence Oates, Captain Robert Scott, Petty Officer Edgar Evans; sitting (l-r) Lt Henry Bowers, Dr Edward Wilson.

Their next attempt at the South Pole was on 1 November 1911, fourteen men set off on the long trip. 79 days later, Wilson was one of the five-man Polar party that reached the Pole on 18 January 1912, only to find the pole had been claimed by Norwegian Roald Amundsen and his team just five weeks earlier. Their return journey soon became a desperate affair mainly due to the exceptionally adverse weather, in a vain attempt to save his companions, Captain Lawrence Oates deliberately stumbled out of their tent to his death on 16 March after his frostbitten feet developed gangrene. Wilson, Scott and Bowers continued on for 3 more days, progressing 20 more miles, but were stopped by a blizzard 11 miles short of the 'One Ton' food depot that could have saved them.
The blizzard continued for days, longer than they had fuel and food for. Too weak, cold and hungry to continue, they died in their tent on 29 March, still 148 miles from their base camp. Their bodies were found by a search party the following spring on 12 November 1912. Their tent was gently lowered over them by the search party who then buried them where they lay, under a snow cairn, topped by a cross made from a pair of skis.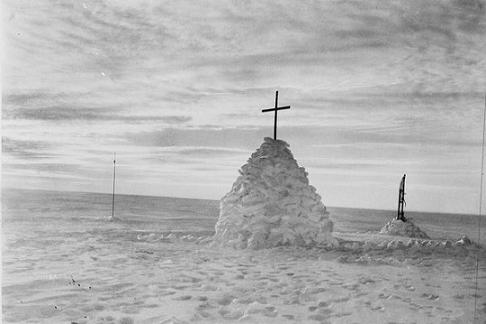 The grave of Robert Falcon Scott, Henry Robertson Bowers and Edward Adrian Wilson,
built on the site where they fell.

During the trek Wilson was the confidant of many, respected for his judgement, skills at mediation and dedication to others. By all accounts, Wilson was probably Captain Scott's closest comrade on the expedition. Scott wrote of Edward Wilson:
"Words must always fail me when I talk of Edward Wilson. I believe he really is the finest character I ever met."


---

Why not share us on Facebook


Or join our Facebook group
"Stanmore Middx. Past & Present"
For Hundreds more vintage photos of the area, as well as news and local events.