This demo is too wide for your mobile screen.
Please view on a tablet or PC.
<!menu above----------------->

Stanmore Park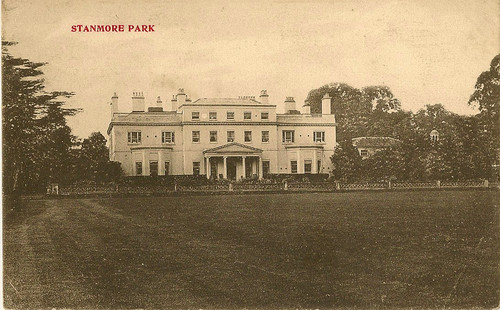 Old Church farm formed part of the Drummonds' property, which was bought by the marquess of Abercorn, as the Stanmore Park estate, in 1839. Abercorn, having his own seat at Bentley Priory, sold the Stanmore mansion in 1848 to George Carr Glyn, later Lord Wolverton (d. 1873), a partner in Glyn, Mills & Co. The house, after some 50 years as a boys' preparatory school, was sold with 56 a. and pulled down in 1938 to make way for no. 3 Balloon Centre of the Royal Auxiliary Air Force. The site was occupied in turn by Balloon Command H.Q., and by groups of Transport Command and Fighter Command. In 1971 Stanmore Park was a station in no. 11 (Fighter) Group of Strike Command, whose headquarters were at Bentley Priory, although part of the old park survived as Stanmore golf course.

History
The Stanmore Park estate, which at its greatest extent covered land north and south of Uxbridge Road between Kenton Lane to the west and Old Church Lane to the east, was largely developed in the C18th by the Drummond family. Part of the estate was land within the Canons estate owned from the C17th by Sir Thomas Lake, Secretary of State (Chancellor of the Exchequer) to James I. In 1696 it became part of the dowry of Lake's great grand-daughter Mary on her marriage to James Brydges, later Duke of Chandos, who subsequently developed the estate, undertaking numerous works in the landscape. Among these works was the heightening of a pre-existing mound to 105 metres in order to create a 'point de vue' from his mansion. 'Bell Mount' is shown on John Rocque's map of 1745, but it is not known whether this refers to its shape or whether it derives from the Norman 'bel mont' meaning 'fine hill'. Belmont or Bellmont was later part of the Stanmore Park estate. The estate only came to be called Stanmore Park in the C19th, and at one time was known as Belmont. The hill is now within Stanmore golf course.
Andrew Drummond had arrived in London from Scotland some time between 1707 and 1712 and founded Drummond's Bank at Charing Cross. By 1729 he was able to purchase a country house called 'Hodgkins' in the parish of Great Stanmore, although the exact location of that house is not known. First recorded in 1670, this property had gardens and orchards as well as various buildings. Drummond lived here with his family, members of whom were buried in the parish churchyard of St John the Evangelist, including his wife who died in 1731 and later himself who died in 1769. He continued to enlarge his estate up until his death, for example in 1745 purchasing 14 acres of meadowland and in 1749 land known as Buggs that was one of the head tenements of the manor, whose lands had been divided earlier. In 1760 he acquired considerable holdings belonging to Joseph Taylor when the latter died. In 1741 Drummond had also been granted licence by the Duke of Chandos to a strip of land to the east of an avenue of trees, one of a number planted by the Duke on his estate. In 1763 Drummond had a Palladian mansion built on his estate designed by architect John Vardy (1718-65), probably on the site of an earlier building. It was completed by William Chambers (1723-96) after Vardy's death and later altered by Henry Holland in 1786/7. Facing north, it was situated south of what is now Uxbridge Road, at that time called Collier's Lane. In c.1800 the Drummonds purchased additional land and had the road diverted into the current curving configuration.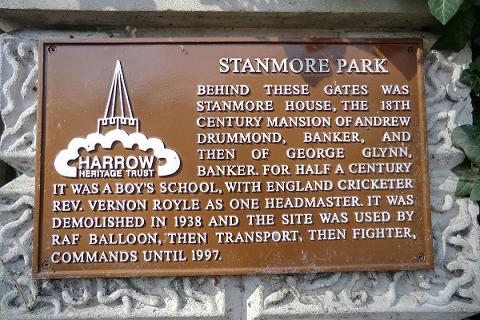 Plaque on one of the many original gate piers around Stanmore Park.

The entrance piers to Stanmore Park are an attractive reminder of the scale and grandeur of the house that once stood there and were recently restored following the redevelopment of Stanmore Park. The piers are Georgian as they were built as part of the Drummond Families estate in Stanmore either at the time of construction in 1760s or the improvements in 1780s. They are of limestone with interesting, as they are square with vermiculated rustications and Greek fret frieze, consoles to right and left. These have a blocking course and flat pyramid cap. The north piers are within the Conservation Area on Uxbridge Road, the south piers (which are matching) are on Gordon Avenue, with both sets being grade II listed.
The C18th parkland was reputedly laid out for Andrew Drummond by 'Capability' Brown, and was regarded by Humphry Repton, who subsequently worked here, as one of Brown's finest works.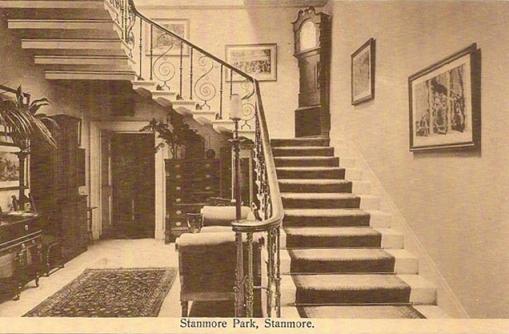 Entrance hall to Stanmore House c1900.

Members of the Drummond family continued to live at Stanmore into the C19th, the last being George Harley Drummond, who attended Harrow School, but who subsequently returned to Scotland. Later owners included Lady Aylesford in 1815 and Lord Castlereagh. In 1840 the estate was purchased by the Marquis of Abercorn, all of whose property was sold in 1848 at which time Stanmore Park comprised some 1,400 acres, '1270 acres being within a ring fence', and 'the home or park farm (400 acres) is one of the most spacious in the county' (document quoted in Druett). It was purchased by George Carr Glyn who became the first Lord Wolverton in 1869, a banker, MP and Chairman of the London and North-Western Railway. He was succeeded by his son in 1873, George Grenfell Glyn, also a banker and MP, and a friend of William Gladstone.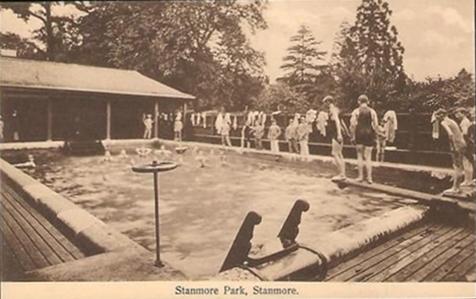 Herbert Kemball Cook's preparatory school's swimming pool 1908

In the late 1880s Herbert Kemball Cook's preparatory school was transferred from Brighton to Stanmore Park, which was described as 'a large mansion with extensive grounds off Uxbridge Road, Stanmore'. The headmaster from 1901-1929 was former Lancashire and England cricketer Revd. Vernon Royle. During the period as a school an earlier fish pond became a swimming pool. The school remained here until Christmas 1937 when it moved 'to a park near Hertford' following which Stanmore Park was once again on the market.

907 (Balloon) Squadron

In 1939 Balloon Command was established at Stanmore Park. The unit was built on the grounds of Stanmore Hall that was purchased by the Air Ministry in 1938 and the hall was demolished during the station development programme. Druett, writing in 1938, gives a vivid account of this: 'The house was demolished by traction engine, cables and grappling irons, and many magnificent trees, including oaks, elms, birch and the very rare willow-leaved oak, upwards of 200 years old, were uprooted for the purpose of a balloon barrage unit and the erection of hutments. Harrow Urban District Council which, with its predecessor the Hendon Rural Council, had spent thousands of pounds in preserving the amenities of the district and adding to its open spaces, was not consulted.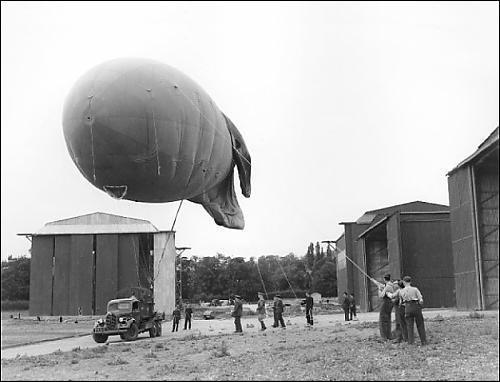 Earl of Athlone inspecting 907 (Balloon) Squadron, Stanmore, 1939.

RAF Stanmore Park

RAF Stanmore Park formed part of No 11 Group, which was originally at RAF Uxbridge and then transferred to nearby RAF Bentley Priory until its closure. The station closed in April 1997.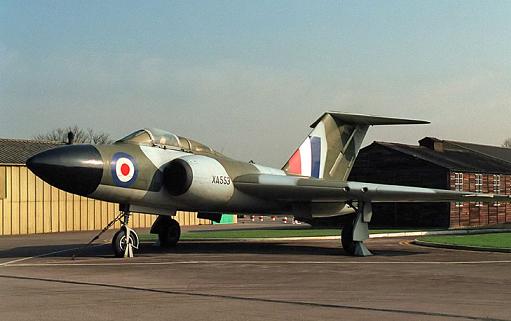 XA553 Transferred to Stanmore Park, still as 7470M. With the closure of RAF Stanmore Park and after 35 years as the station's gate guardian the Javelin was sold by auction, and became the gate guard at Thunder City in Cape Town, South Africa.

With housing built on much of the site and the streets named after former occupiers of the house, One building was retained for the use of 2236 Air Training Corps The building currently in use is the converted / extended NAAFI building which was between the Married Quarters and Junior Ranks Mess.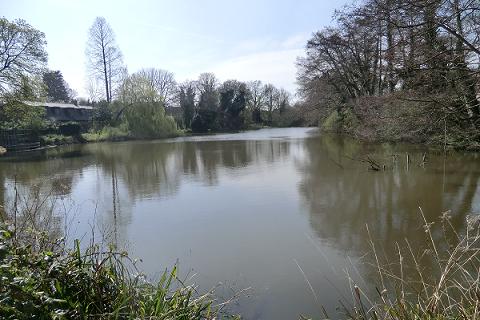 Temple pond today in Stanmore Park


---

Why not share us on Facebook


Or join our Facebook group
"Stanmore Middx. Past & Present"
For Hundreds more vintage photos of the area, as well as news and local events.